Members and Friends of TVHS,
As we enter this holiday season, we'd like to take this opportunity to look back on our third year.
From a fascinating talk about Tidewater's oldest seafood staple,  "The Oyster", to a beautiful fall trip to Virginia's Eastern Shore, TVHS enjoyed another strong year of trips and lectures to our region's colorful history.
The events began in February when iconic Virginia oysterman Tommy Leggett,
who spent over 30 years as a commercial fisherman, policy maker, and leader in oyster restoration, kicked off our Spring lecture series. In fascinating detail, Leggett discussed the integral part the oyster played in the Virginia economy from 1607 Jamestown Fort to today.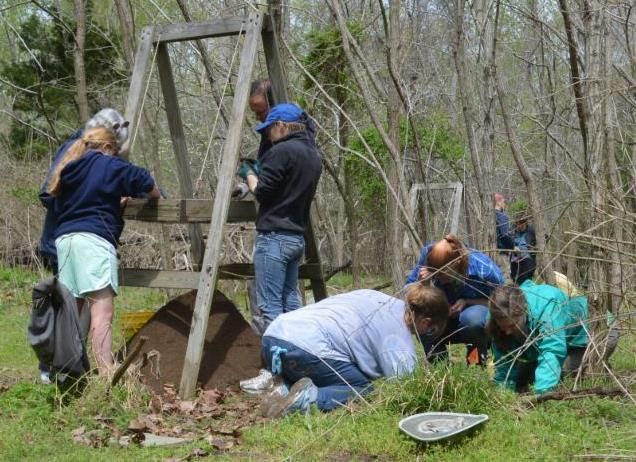 In early March we learned about TVHS' long involvement with the free public archaeology program at New Quarter Park from veteran Fairfield Foundation archaeologists Thane Harpole and Dave Brown.  Held each Spring and Fall, the event welcomes the public to work alongside seasoned archaeologists Thane, Dave, and others as they dig, unearthing treasures of old.
Our field trip program kicked off in late March with Jamestown President, Jim Horn, and legendary archaeologist, Dr. William Kelso, hosting a private tour of the latest finds and history of the four graves identified in the 1608 Church.
Our second field trip, held in May, took participants to Surry County where we toured the historic 1650 Smithfield Church, Bacon's Castle, and enjoyed lunch at historic Smithfield Inn.
And although severe weather cancelled one talk, October still brought TVHS' third talk and third trip.  Robert Teagle, curator at King Carter's Christ Church, gave a revealing look at Robert Carter, III, an early proponent of releasing slaves and encouraging humane treatment during Tidewater's revolutionary war period.  And with our sister organization, The Northhampton Historic Preservation Society, October field trip participants were treated to a behind the scenes tour of Eyre Hall and the town of Eastville.
Events next year include Spring plans for field trips to visit the Northern Neck and the Barrier Museum on the Eastern Shore, and a two part lecture series on the evolution and architecture of the churches in Tidewater.  We hope you will join us!
We are thankful for our members, friends, speakers, sister organizations, community services, and supporters.  We thank you for your continued support and interest in our efforts to promote knowledge and respect for our lovely, rich historic region.
Happy Holidays,
from the Board of the
Tidewater Virginia Historical Society
Board of Directors
Joe Burkart,  President,  Williamsburg
Forrest Morgan, Vice President,  Mathews County
Carol Boozer, Secretary,Williamsburg
Lee Edgerton, Treasurer,  Williamsburg
Mary Cimaglio, Membership, Williamsburg
Ben Arney, Toano
Harry Burton, Williamsburg
Carl Fischer, West Point
Connie Granger, Williamsburg
Carol E. Harrison, Williamsburg
Stephanie Hughes, Williamsburg
Catesby Jones, Gloucester
Jane Medlin-Burton, Williamsburg
Jeanne Takesian, Williamsburg
Holly Armistead Carlson, Williamsburg